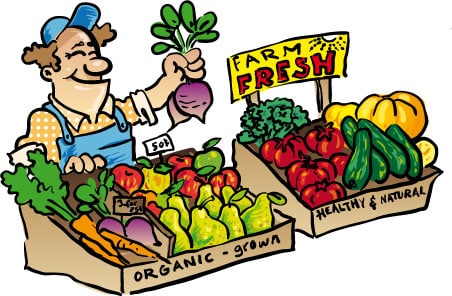 Farmers Market Vouchers Available
in Clearfield County
The CCAAA, Inc. has once again joined with the PA Department of Agriculture to administer the Senior Farmers Market Nutrition Program.

To be eligible for the program, a person must be age 60 or older and live in Clearfield County. Their total annual income must be at or below $20,665 for a single person or $27,991 for a married couple. Proof of age and residency is required (driver's license, photo ID, ATA card, etc.).
Each consumer will receive four $5 vouchers with a list of participating farmers markets. Vouchers will be offered through September 30 or until all vouchers are distributed.
If you are not able to pick up the vouchers yourself, a friend or family member can pick them up for you. They may pick up a proxy form at the Area Agency on Aging or one of the Centers for Active Living. Forms can also be printed here. Once you have filled out the form, your family member or friend may then take the proxy form to one of the participating sites. The form must be signed by the eligible individual prior to picking up the vouchers, and identification for both persons must be submitted by the proxy when applying for vouchers.   

Distribution Sites & Times

Houtzdale Family Service Center

Mondays & Tuesdays

1 – 3:00 p.m.

Coalport Center for Active Living

Tuesdays

9:30 a.m. – 11:00 a.m.

DuBois Senior & Community Center

Wednesdays & Fridays

9:00 a.m. – 11:00 a.m.

Mahaffey Center for Active Living

Thursdays

9:30 a.m. – 10:30 a.m.

Kylertown Center for Active Living

Fridays

9:30 a.m. – 10:30 a.m.

Karthaus Center for Active Living

Fridays

12:30 p.m. – 1:30 p.m.

Clearfield Center for Active Living

Mondays

1 – 3:00 p.m.

Westover Fire Company
975 West Bridge St., Westover

Thursday

9:00 – 1:00 p.m. - July 19 ONLY
The following sites are residents only:
| | | |
| --- | --- | --- |
| Park Avenue Towers | Wednesday, July 11 | 1:30 p.m. – 3:00 p.m. |
| Leonard Court | Thursday, July 5 | 11:00 a.m. - 12:00 p.m. |
| Meyer Towers | Wednesday, July 11 | 10:00 a.m. - 12:00 p.m. |
| Gateway Towers | Tuesday, July 17 | 10:00 - 11:00 a.m. |
| St. Michael Terrace | Tuesday, July 17 | 2:00 - 4:00 p.m. |